?

PETER JAY GOULD – Founder & CEO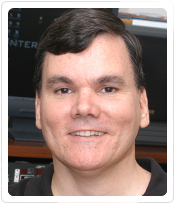 A multiple award winning producer/director/editor, Peter has spent more than 30 years in television, radio and motion picture production.
Peter's corporate client list ranges from Pitney Bowes, Pepsico, Toyota, Dodge, Universal Studios and Bayer Pharmaceutical to GE Capital, Mohegan Sun, Reader's Digest and JP Morgan / Chase, to name just a few. His nonprofit clients include the American Society for Microbiology, the Hereditary Angioedema Association and Hereditary Angioedema Association International, the Agawam Council and many others. His TV credits have earned multiple Emmys and aired on PBS, CBS, The Travel Channel and elsewhere. One of fewer than 200 Master Avid Editors in the world, Peter began his career as an editor and video engineer at Eaglevision and Cabin Fever Entertainment where he oversaw the release of over 200 feature films into the home video market.
A summa cum laude graduate of Colorado Technical University with a Bachelor's Degree in Business Administration / Management, Peter is also a member of the Screen Actors Guild and American Federation of Radio and Television Artists (SAG/AFTRA).
?

GARY THEROUX
     Writer / Producer

Gary is an Emmy-nominated TV writer-producer who has crafted programming for Disney, PBS, CBS and others.
Over his 20 year run at Reader's Digest Entertainment (the last ten as Senior Editor), Gary helped found and lead Reader's Digest's multi-award-winning Video division.
More recently he helped guide a new talent showcase TV series to two Emmy wins. A master storyteller with multiple books, scripts and countless articles to his credit, Mr. Theroux has earned renown for his painstaking research and insightful interviews -- having conducted more than one thousand so far.
A former UCLA instructor and guest on "The Today Show," "Larry King" and similar programs, Gary's specialty is the conception, development, direction, writing and production of moving, compelling, award-winning radio and TV programming (shorts, features, series and one-of-a-kind broadcast specials).
Gary is a Mass Media (TV/Film) graduate of Illinois State University and is a member of SAG/AFTRA and ASCAP.
?

FRANK PETRILLI
    Writer / Director

Frank truly shines when it comes to staging dramatized scenes – and putting interview subjects at ease when they are ordinarily uncomfortable being in front of the camera. Frank spent more than a decade in advertising and PR, both with the Austin Lawrence Group and Hylen Sharp Advertising, where he served as Business Manager and Production Head.
He has polished film and TV scripts for Hurricane Development and served as managing editor of INDIE Magazine, which covers the world of independent filmmaking.
Frank has taught acting, directing and on-camera technique at Sacred Heart University, Weist-Baron, Manhattanville College and Western Connecticut State University.
His other credits include runs as Artistic Director with the Ten Ten Players, the Acme Stage Company and the Oakwood Players in Los Angeles.
Frank's a graduate of the New York Academy of Theatrical Arts.
?

JENNIFER LARSEN
    Field Producer

For more than a decade now, Jennifer has traveled throughout the U.S., Canada and Europe producing storytelling television programming. In addition to her experience working on multiple Emmy-winning projects, Jennifer is a recognized expert in firearms and self defense for women (subjects she has taught extensively).
A compassionate and insightful interviewer, Ms. Larsen is equally at ease with high profile executives, technical experts and members of the public.
In addition to her television work, Ms. Larsen has performed field investigations and covert surveillance using digital photography, video and other technologies. Among the firms to which she's lent her skills: Smith & Wesson, Applied Protection Concepts, Lighthouse International, Command Security and Beneficial Investigative Services.
Ms. Larsen is a graduate of the University of Massachusetts with dual degrees in Criminal Justice and Psychology, as well as a Certificate in Contemporary Communications.